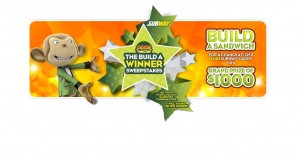 When you head to Subway do you recreate your favourite every time or would you rather experiment with different meat, bread and toppings each time?
Head to the Subway Facebook page and you will be able to build your favourite sub or one you would like to try. Each sub that you enter will make you eligible for the $1000 grand prize! So come back each day to create and increase your chances of winning!
This contest closes on July 31st.
Cheers,
Alicia