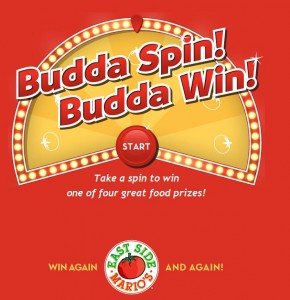 I love this contest! Why? Because everyone wins! Everyone who spins the East Side Mario's Budda Spin! Budda Win! Wheel wins a prize.
You can win a free dessert, a free appetizer, $5 to $10 0ff your meal, gift cards from East Side Marios and MasterCard, a Samsung 40″ TV, $5,000 cash, plus the grand prize, a trip for 4 to Universal Studio's in Orlando :).
I just had my turn at spinning the wheel and I won $5 off when I spend $14.99. How cool is that? But it gets even better: You can spin EVERYDAY and win a prize.
Good luck and Enjoy!
Cheers,
Alicia