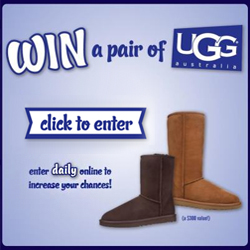 I discovered Ugg boots a few winters ago and I haven't looked back since. It feels like wearing slippers outside all day long!
Enter to win a pair of Ugg Australia Boots courtesy of The Shoe Company.
Just "Like" The Shoe Company on Facebook for your chance to enter daily and win!
Now that gives you something to look forward to this winter. 😉
This Contest Closes on January 14.
Cheers,
Alicia