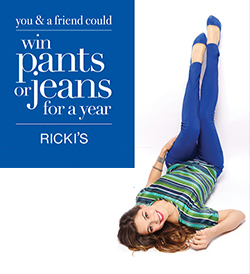 12 pairs of pants or jeans, one every 30 days – sounds like heaven to me!
Enter this contest from Ricki's and you and a friend could experience this for a whole year.
Be sure to share, if the Ricki's Facebook page gets 95,000 likes by the time the contest ends, they'll give away extra grand prizes to each province!
Tonight, I dream of pants shopping.
This Contest Closes on March 15.
Cheers,
Alicia