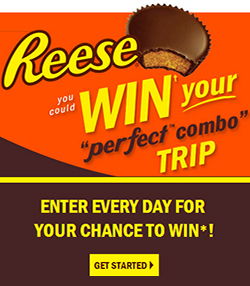 How exciting would it be to win the trip you've always wanted? With Reese's Perfect Combo trip contest, you can!
Whether it be Sand & Surf in Spain, or Rafting & Rappelling in the Grand Canyon, there are 3 Grand Prizes to win. Imagine an 8-day trip, including awesome activities and $1500 spending money, to the destination you've been dreaming of. There are 10 trips to choose from! You can also win weekly prizes of $250 Prepaid VISA gift cards.
You need a UPC code from the package of a participating Hershey product, but as it happens, we have one for you: 05663737. Good Luck!
This Contest Closes on May 13.
Cheers,
Alicia