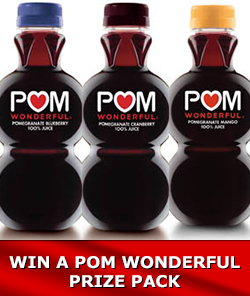 Are you a fan of the Pomegranate trend?
I've loved the POM Wonderful advertising, it's edgy and cool and definitely makes me want to try it!
You can be 1 of 15 lucky winners to receive a POM Wonderful Prize Package from Woman's Day magazine.
The prize includes a case of POM Wonderful 100% Pomegranate Juice, one 8-oz. bottle each of POM's blueberry, cranberry and mango flavors, and a POM Wonderful tote bag.
This Contest Closes on April 19.
Cheers,
Alicia