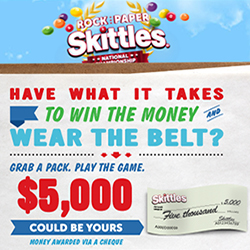 You will love this quick on line Rock – Paper – Skittles game. And the prize is my all time favorite prize – cash!
Well, with $5,000 in my pocket I would fix my basement. I would love to have a woman cave and the basement would be the perfect place for it. Don't you dream of your own woman cave?
Play the quick Skittles game, and you could end up with $5,000 in your pocket!
*This contest ends on May 31.
Cheers,
Alicia