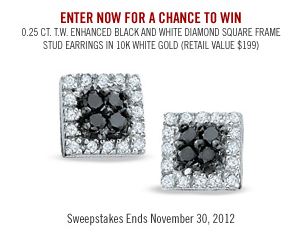 I've always felt that accessories, big or small, are very important to complete your look. Do you feel like you are in need of some timeless pieces that can be worn with almost all of your outfits? Well today is your lucky day, because Peoples is giving you the chance to win these gorgeous black and white diamond earrings.
This is the perfect Christmas present for yourself, or for someone else if you are feeling especially nice!
This Contest Closes on Nov 30.
Cheers,
Alicia