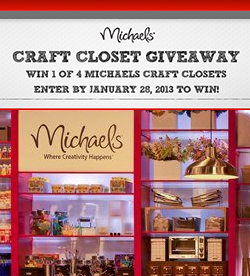 My craft collection could definitely use some completion and organization. Half the time I don't know where I put things when I need them.
That's why when I saw this 1 in 4 chance to win a craft closet from Michaels I had to share.
Grand prize includes a $1,000 Michaels Gift Card, a personal shopping appointment at your local Michaels and Jo Pearson's advice on how to build the perfect craft closet.
If I won, I would definitely buy some more scrapbooking supplies so I can finish the scrapbooks I am making for my babies.
This Contest Closes on January 28.
Cheers,
Alicia