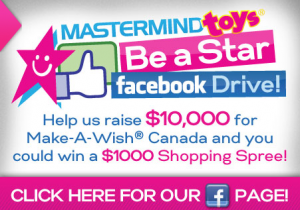 This Holiday Season help MasterMind Toys raise $10,000 for Make-A-Wish Canada!
All you have to do is 'Like' the MasterMind Toys Facebook page and they'll donate $1 on our behalf!
That's the kind of Holiday Spirit I 'Like' to see!
If you already "Like" their page, they've already donated 50 cents on your behalf!
As an added thank you for helping to reach the goal, we also get a chance to WIN a $1,000 Shopping Spree to Mastermind Toys! (with additional prizes of $250 & $100)
Cheers,
Alicia
'Like" MasterMind Toys to Donate Here