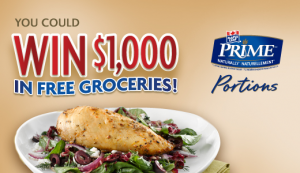 How long would $1,000 in groceries last you? For me it would last probably about 3-4 months! What an amazing prize to win!
Enter to win $1,000 in free groceries courtesy of Maple Leaf Prime Portions!
Just "Like" Maple Leaf Prime on Facebook and watch the video and pick which ingredients John Placko suggested putting in his recipe in the video to get your ballot.
Bon Appetit!
Hint: It's Hot Sauce and Chili Flakes
This Contest Closes on April 6.
Cheers,
Alicia