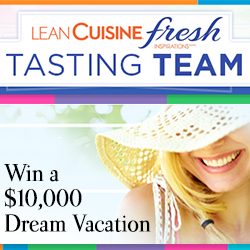 Imagine where you could go with a $10,000 dream vacation. You could do a romantic getaway to the Caribbean with your husband, a family vacation to Florida or California or travel Europe with a friend or loved one.
Where ever your travel desires take you, enter to win this fantastic prize with Lean Cuisine.
Just "Like" Lean Cuisine Canada on Facebook and review Lean Cuisine Fresh Inspirations for a chance to win a $10,000 dream vacation.
I think I would take my family on a road trip through the Southern States if we won.
This Contest Closes on January 31.
Cheers,
Alicia