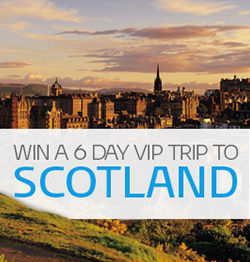 I have always wanted to conceive a child while on a romantic adventure in Europe. I think it would make a great story for them to hear when they get older.
We haven't made it to Europe yet, but as our kids get older there is more of a chance to have grandma watch them for a week while we go on trip together.
This would be the perfect excuse to get away. Enter to win a 6 day VIP Trip to Scotland on KLM's Facebook page.
The grand prize includes everything from airfare to car rental to accommodation. You can even get a Nikon digital camera to capture all the fantastic memories.
I don't think more kids are in the cards for us, but you never know. 😉
This Contest Closes on January 23.
Cheers,
Alicia