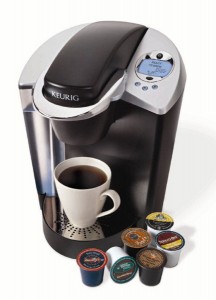 After being up all night with a sick baby, a good cup of coffee is essential!
I actually have a Keurig machine and I don't think I would ever be able to go back to a normal coffee maker. The individual K-cups are just so easy and quick to use. I love my machine so much that I thought I would share the love by letting you know about this contest for your chance to win your very own Keurig Brewing System and a year's supply of K-Cups!
Imagine not have to worry about buying coffee for a whole year! My wallet would definitely love that one!
This contest closes on March 15th.
Cheers,
Alicia