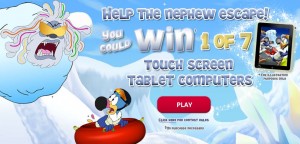 Kellogg's is giving away 7 Touch Screen Tablet Computers and a $50 online music gift card in their Fruit Loops Winter Contest.
To enter you have to help the nephew escape the Downhill Dodge and collect the Fruit Loops! Once you are safely out, you will get your ballot for a chance to win!
Here is the Free UPC Code: 64100LOOP5 if you need it to enter.
To enter you have to be between 6-17 years old.
This Contest Closes on April 25.
Cheers,
Alicia