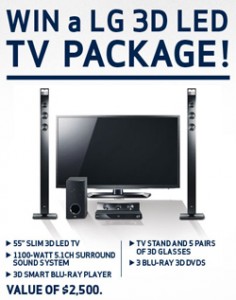 Imagine getting your family together to watch your favourite holiday movies in front of a brand new 55″ LG 3D LED TV with surround sound, a 3D Blu-Ray Player, 3 Blu-Ray 3D DVDs, TV Stand and 5 Pairs of 3D Glasses.
Enter to win this great prize form Globo today!
Now that would be a Merry Christmas for my family and I!
This Contest Closes on December 3.
Cheers,
Alicia