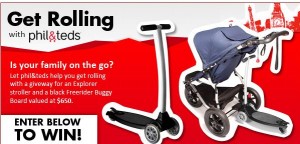 Who says your baby is the only one that can roll around in the stroller?
Phil & Teds and Canadian Family is giving away a Explorer stroller and black Freerider Buggy Board worth $650 and you could win it!
Just fill out a ballot for your chance to win!
What a great way to get off your feet and take your baby for a walk all at the same time. 😉
This Contest Closes on April 15.
Cheers,
Alicia