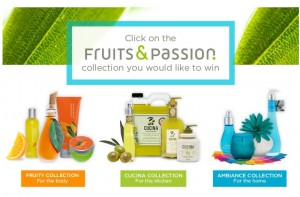 The change of seasons is the perfect time to change your fragrance!
Fruits & Passions has three great lines of toiletries that they are giving away. Do you like the Fruity Collection, Cucina Collection or the Ambiance Collection? When you head to their webpage you will be able to select your favourite collection to win.
I love the Fruity Collection. It would be so great to have in my bathroom and I think the kids would love it too!
This Contest Closes on June 11th.
Cheers,
Alicia