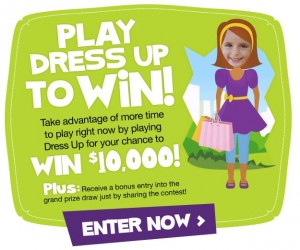 My kids love to play dress up. Hats, gloves, my high heels the whole nine yards. I think it's something that every kid likes to do!
Well here is your chance to put these dress up skills to use!
Upload a photo of one or all the members of your family (to a maximum of 5 photos per household) and use the tools provided to dress up the photo!
After you submit your photo you will have a chance to share it with your friends and family. If you do that will earn you a bonus entry which could mean you are one step closer to the $10,000 grand prize from Children's Advil!
What would you do with the cash if you won?
Cheers,
Alicia