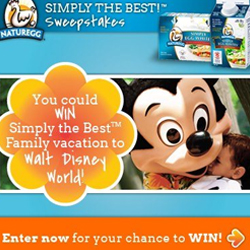 Going on a family trip that is fun for everyone and easy on the wallet is hard to come by, but what if you didn't have to worry about any of that? I'm talking about 6 day/5 night stay at Walt Disney World! Naturegg wants to make it possibly for your family by entering their Simply The Best! Sweepstakes. Upon entering, you could also win 1 of 25 gift packs with Burnbrae Farms and Naturegg coupons and products. If that's not enough, you're also automatically entered into their daily random draw for a Simply Egg Whites coupon!
I would love to go. Then it would give me an excuse to dress up like a princess!
This Contest Closes on November 21.
Cheers,
Alicia