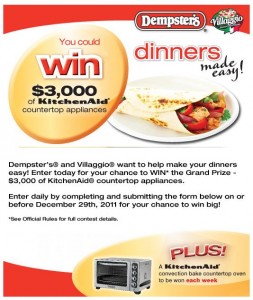 Countertop appliances can really make your life easier! In the summer I rarely turn on my oven because it was so hot and I don't want to heat up the house. Instead I used my countertop convection bake oven to cook my food.
You could win $3,000 worth of KitchenAid countertop appliances in Dempster's Dinners Made Easy Contest on Facebook!
"Like" Dempster's on Facebook and enter to win this great prize. Plus, you will have a chance to win a weekly prize of a KitchenAid convection bake countertop oven!
Grand prize is 14 KitchenAid countertop appliances including a Stand Mixer, Toaster Oven, Pasta Roller and more!
You can never really have enough kitchen appliances in my opinion.
Cheers,
Alicia
Win KicthenAid Countertop Appliances