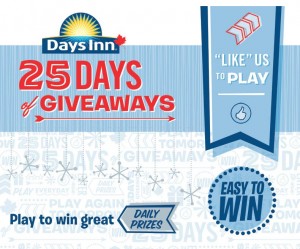 Could you use a new television?
"Like" Days Inn Canada on Facebook for a chance to collect ballots by playing the "Pick 3" game daily.
There are also more than 25 daily prizes to be won. So make sure you keep coming back to increase your chances.
My husband would love a brand new 55″ TV under the Christmas tree. It's definitely worth a shot to see how lucky I can get. 😉
This Contest Closes on December 13.
Cheers,
Alicia