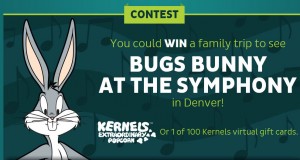 Everyone loves Bugs Bunny. You know you loved him as a kid, your children love him, and what's not to love?
He's funny, charming and handsome (in a rabbit sort of way of course) and you and your family can win a chance to see Bugs Bunny at The Symphony in Denver, Colorado!
You also have a chance to win 1 of 100 Kernals virtual gift cards, so get popping!
This Contest Closes on March 31.
Cheers,
Alicia