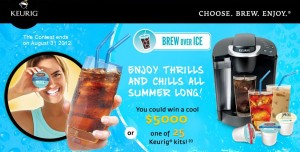 Isn't it nice to sit on the porch on a nice summer's day with an iced tea or coffee and a good book?
Keurig wants you to brew your favourite blend over ice this summer in their new contest!
Fill out a ballot and receive a free sample of 4 K-Cup packs!
Grand Prize includes $5,000! There are also 25 Keurig kits up for grabs!
*Make sure you check off the box in blue to get your sample*
This Contest Closes on August 31.
Cheers,
Alicia