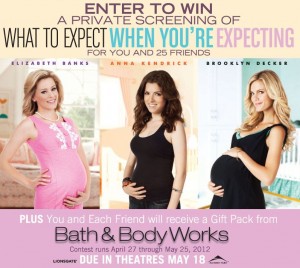 "Look at her, she is wearing six inch heels. She's like a magical pregnancy unicorn."
I have seen the trailer for What to Expect When You're Expecting? a couple of times and I have to say it looks hilarious!
"Like" Bath and Body Works Canada on Facebook and enter to win a private screening of the movie for you and 25 friends as well as a gift pack from BBW for everyone!
I think it would be fun to gather all my fellow new moms or moms to be and go see this movie together!
This Contest Closes on May 25.
Cheers,
Alicia
See What to Expect When You're Expecting in a Private Screen