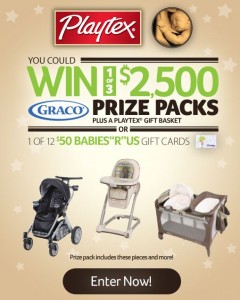 I just found out the other day that they are building a Toys "R" Us a few minutes from my home. No, I don't have children yet, but it will definitely come in handy when we do!
For now, if I won I would give the prize to my new little nephew!
Enter to Win 1 of 3 Graco prize packs worth $2,500 plus a Playtex Gift Basket or 1 of 12 $50 Babies "R" Us Gift Cards!
The grand prize has so many items in it including a high chair, a car seat and a stroller.
What an amazing prize for any parent to win!
Cheers,
Alicia