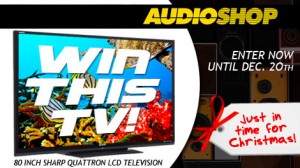 I don't know what it is with men and their TVs. We have twice as many TVs as people in our house but yet my finace just can't resist stopping to look at TVs whenever we are out shopping.
Well maybe this contest will satisfy his craving.
The Audio Shop is giving away an 80″ Sharp Quattron LCD TV!
Hopefully that is enough TV for him. 😉
Cheers,
Alicia