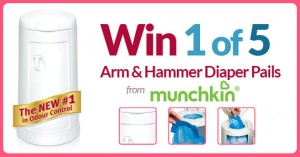 Enter the Munchkin Sweet Not Smelly Nursery giveaway for the chance to win 1 of 5 Arm & Hammer Diaper Pails.
Like their Facebook page and enter to win!
These pails are so handy, they definitely help to keep the waste organized and contained until you can bring it out to the garbage!
*This offer is not valid in Quebec.
This contest ends on May 29.