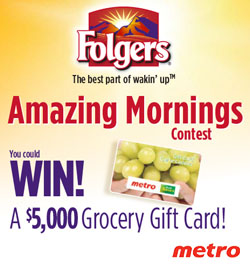 I love starting off my weekend with a full, hearty breakfast on Saturdays.
That means coffee, eggs and bacon, and toast with jam.
You could win $5,000 in groceries with a Metro Gift card thanks to Metro and Folgers in their Amazing Mornings Contest – $5,000: that's a lot of breakfasts!
This Contest Closes May 1.
Cheers,
Alicia