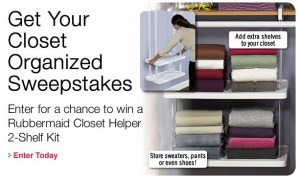 I could use some help in my master bedroom closet! It seems like there should be more space in there than there actually is.
Rubbermaid is giving you a chance to win 1 of 4 2-Shelf Closet Helper Kits.
That way you can use the space underneath your short hang clothes to create a double hand for extra shelves.
Sounds like that would come in handy in my closet!
You can enter daily until January 19 for your chance to win!
Cheers,
Alicia